Decarbonizing the World's Largest Ammonia Production Network
In October 2020, CF Industries announced significant steps to support a global hydrogen and clean fuel economy, which is expected to grow significantly over the next decade, by decarbonizing its ammonia production network to enable the production of green and low-carbon ammonia.
The company's initial efforts include:
Board-authorized green ammonia project to be built at the Donaldsonville Nitrogen Complex
Carbon dioxide (CO

2

) sequestration and other carbon abatement projects to enable low-carbon ammonia production in development
Comprehensive ESG goals, covering critical environmental, societal, and workforce imperatives, including a dramatic reduction in carbon emissions across its global network
25% reduction in CO

2

e emissions intensity by 2030 and net-zero carbon emissions by 2050
Executive compensation tied directly to ESG goals
Understanding our Emission Profile
Our natural gas-based ammonia production process is more energy efficient and results in lower emissions than the coal-based processes used in other parts of the world. However, conventional ammonia production is inherently energy-intensive. We continually invest in our manufacturing and distribution facilities to improve energy efficiency and reliability.
Emissions are closely related to our energy use, which itself is largely a function of our production volumes.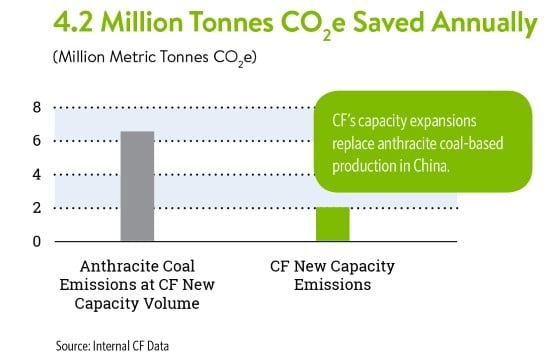 Natural Gas Matters
Not all ammonia production is the same. While carbon emissions are an unavoidable byproduct of ammonia production, the level of carbon dioxide-equivalent emissions generated is tied to the type of feedstock used: natural gas in the case of CF or anthracite coal by producers in China. With China decreasing production capacity in response to recent expansions (including those at CF), we estimate that at least 4.2 million tonnes of carbon dioxide-equivalent has, in effect, been avoided.
Yield Matters
Fertilizer use increases crop yields per acre, meaning more food can be grown on less land. That, in turn, reduces the need to convert carbon-sequestering forestland into farmland. Increasing crop yields thereby works to reduce greenhouse gas emissions by limiting deforestation.
If farmers used no synthetic fertilizer, approximately 30 percent more farmland would be needed to grow food. The resulting deforestation would cause an increase of nearly five gigatonnes of carbon dioxide equivalent emissions.
For more detail on our greenhouse gas emissions in context, view this infographic.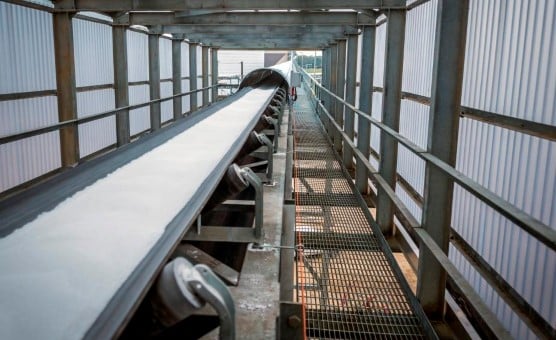 Carbon Capture
Our plants generate two types of carbon dioxide as a result of the Haber-Bosch process: combustion CO2 and process CO2. We are able to reuse process CO2 rather than emit it into the air.
We reuse process CO2 three ways: production of granular urea, pressure control in our plants, and sales to third parties that use it for, among other things, carbonation in beverages. In 2017, we reused approximately 4.4 million tonnes of CO2 – approximately 25 percent of our reported carbon dioxide-equivalent emissions – in the production of granular urea.
Extending Our Impact
We regularly invest in technology that helps reduce nitrous oxide emissions, which has drawn the attention of Cool Effect (http://www.cooleffect.org), an environmental nonprofit that allows individuals to "crowdfund" emissions-reducing projects. Cool Effect enables individuals to purchase the N2O abatement credits that the N2O reduction project at our Yazoo City, Mississippi, plant generates. We then donate the proceeds from those credits to The Nature Conservancy's work on the 4R Plus program to improve soil health and water quality in Iowa.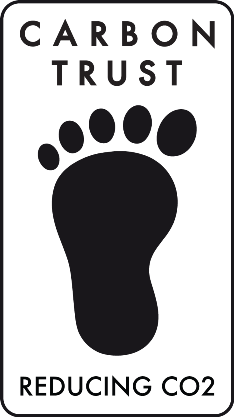 Staying Accountable for our Progress
In the United Kingdom, CF discloses the carbon footprints of all fertilizers and certifies them to the rigorous Publicly Available Standard 2050 (PAS 2050). Certification ensures maximum credibility of our carbon footprints and provides a baseline against which to measure our decreasing impact.