The Stephen R. Wilson Award for Excellence in Safety was created to recognize and share the most impactful safety innovations and improvements made across our company every year. Submissions are then judged on the initiative's:
Impact on safety performance and culture
Transferability to other sites
Ability to be sustained and improved upon
Demonstration of our values
The award is named for CF's former chairman and chief executive officer, Stephen R. Wilson, for his commitment to excellence in safety during his more than 20 years of service at our company.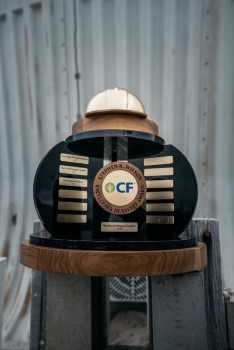 How the Winner is Selected
Each year, CF's nine manufacturing complexes and distribution facilities organization submit nominations for the Wilson Award for Excellence in Safety.
A selection committee composed of representatives from each CF location gathers to hear each nomination presented. The selection committee then chooses five finalists for the award. Each finalist is profiled in detail in a video shared inside and outside the company. You can find past examples here.
During National Safety Month in June, the finalists will make another presentation to the company's Senior Leadership Team (SLT). The SLT selects the winner.
Courtright Nitrogen Complex: 2020 Stephen R. Wilson Award for Excellence in Safety Winner
The winner of the 2020 Stephen R. Wilson Award for Excellence in Safety is the company's Courtright (ON) Nitrogen Complex.
Courtright's winning idea focused on how to better predict and prevent equipment failures at our locations. These failures can have significant consequences to safety or the environment, but they are hard to predict because there are many causes such as vibration, temperature and pressure that can lead to mechanical integrity issues.
Courtright's solution was to deploy wireless monitoring technology to collect thousands of data points securely and remotely. Because of the portability of this tool, they were able to focus their efforts on challenging pieces of equipment. The real time data they collected enabled them to diagnose and prevent failures. Not only is the use of wireless technology for this purpose an important innovation, it is driving the use of data analytics to improve safety and reliability, a key application across our network.
You can view all the finalist videos here.
2020 Stephen R. Wilson Award for Excellence in Safety Finalists
In 2020, our safety superheroes shared their stories about how their location's safety innovation was worthy of the 2020 Stephen R. Wilson Award for Excellence in Safety.
Past Winners of the Stephen R. Wilson Award for Excellence in Safety
These are the previous winners of our Stephen R. Wilson Award for Excellence in Safety.
2019 - Ince (UK) Nitrogen Complex: Ince's winning idea is an innovative approach to working safely with high-voltage electricity. Working with high-voltage electricity is a high-hazard activity that requires doing certain tasks in a specific order to keep people safe – which is why we put a great deal of effort into proper training and writing good procedures. However, human error is always a possibility and mistakes can happen. Ince engineered out human error with a lock and key system that keeps their electrical workers safe. You can learn more about their solution, which can be used not only at any of our manufacturing plants but at any manufacturing facility that uses electricity, from their Wilson Award video.
2018 - Woodward (OK) Nitrogen Complex: Woodward's winning idea is a dramatic improvement on the way we stop and control the driveshafts of the 30-foot wide fans in our cooling towers in order to perform maintenance activities. The Woodward team worked with vendors to research and design a custom-built fan brake and lock-out system that is low maintenance, low cost and setting a new industry standard. You can learn more about their solution, which can be used at any of our manufacturing plants, from the facility's Wilson Award video.
2017 - Courtright (Ontario) Nitrogen Complex: Courtright's winning idea is the implementation of cutting edge technology that engineers out risk for infrared (IR) scans of electrical equipment while increasing the frequency at which we can test for potential issues. The site also earned an Electrical Safety Award from Ontario's Electrical Safety Authority for their idea. Learn more.
2016 - Port Neal (Iowa) Nitrogen Complex: Port Neal developed an idea that gives lab technicians within the company and across the industry a safer, greener and more efficient method for analyzing the quality of the anhydrous ammonia we produce for farmers. The innovation was nominated for the Environmental Protection Agency Green Chemistry Challenge Award. Learn more.
2015 - Ritzville (Washington) Distribution Facility: Ritzville implemented an enhanced ammonia rail rack fall protection system. The system arrests a fall, and then slowly lowers the person to the ground without having to wait for a rescue from height. By enabling self-rescue, a person who falls avoids the potentially fatal effects of being held upright in a harness without any movement. Learn more.