CF's Courtright Nitrogen Complex Marks 50 Years of Operations
Rising along the banks of the St. Clair River south of Sarnia, Ontario, CF's Courtright Nitrogen Complex is marking 50 years in operation. Producing over one million tons of nitrogen products sold as fertilizer or for industrial use each year and with hundreds of employees in the community, Courtright and its employees have been a staple of the community since the site's inception in 1966.
Pam Boland, who serves as traffic coordinator for the complex, has worked at the site for more than 40 years. "When I completed business college and started a career in the customer service office back in 1975, I never would have imagined being part of this fine group for over forty years," she says. "There has always been a strong focus and commitment on safety for employees, community, the environment and customers."
The Courtright plant was started in 1966 by Canadian Industries, Limited (CIL), a subsidiary of Imperial Chemical Industries. The location was chosen because of the availability of natural gas and CIL's intention to use the access the site has to the Great Lakes through Lake Ontario (though current operations do not involve any use of the river or Great Lakes for transport). Over the years additional ammonia capacity was added. In 1993, the facility was sold to Terra Industries, and was then acquired by CF Industries in 2010, along with the rest of Terra Industries.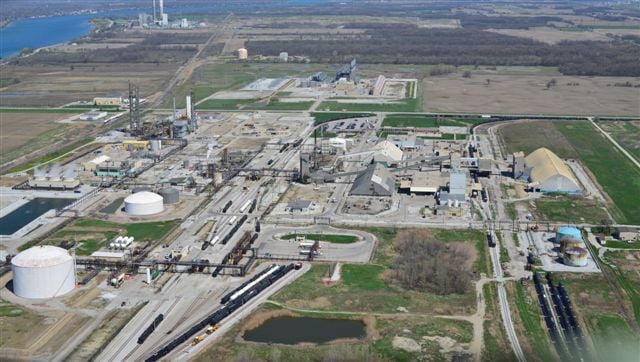 Today, Courtright is the only major fertilizer producer in Eastern Canada.
"I have been at the Courtright plant for 31 years and have remained at the site this long because I have always been challenged and rewarded in my work," says Dorothy Ewener, HR Manager at Courtright. "Most importantly I have been fortunate to work with really incredible people who genuinely care about safety and the ongoing viability of the site and what it brings to the community. The family-like culture permeates each generation of new hires, which I believe has contributed to the longevity of the site."
The Courtright Complex has a strong track record of environmental health and safety excellence. Since the acquisition of the plant by CF, its recordable injury rate was 0.66, much lower than the industry average if 3.18. Additionally, the complex reached 5 million man hours without a lost time injury in September 2014. Milestones like these illustrate how committed Courtright is to being an industry leader in safety performance.
"I consider myself to be fortunate to work at the Courtright Nitrogen Complex, with such a high standard in safety and team work between all departments," says John Thompson, Production Manager. "There is effectively only one Team working to a common goal of operating the plant in a responsible manner where everyone is involved and has a part to play in achieving that goal."
The Courtright complex also is the lowest greenhouse gas emitting nitrogen fertilizer facility in Canada, and one of the lowest in the world, performing 11% better than the world average. Our products are used by customers to grow the food that feeds the world, as well as having additional environmentally friendly chemical applications, as shown below.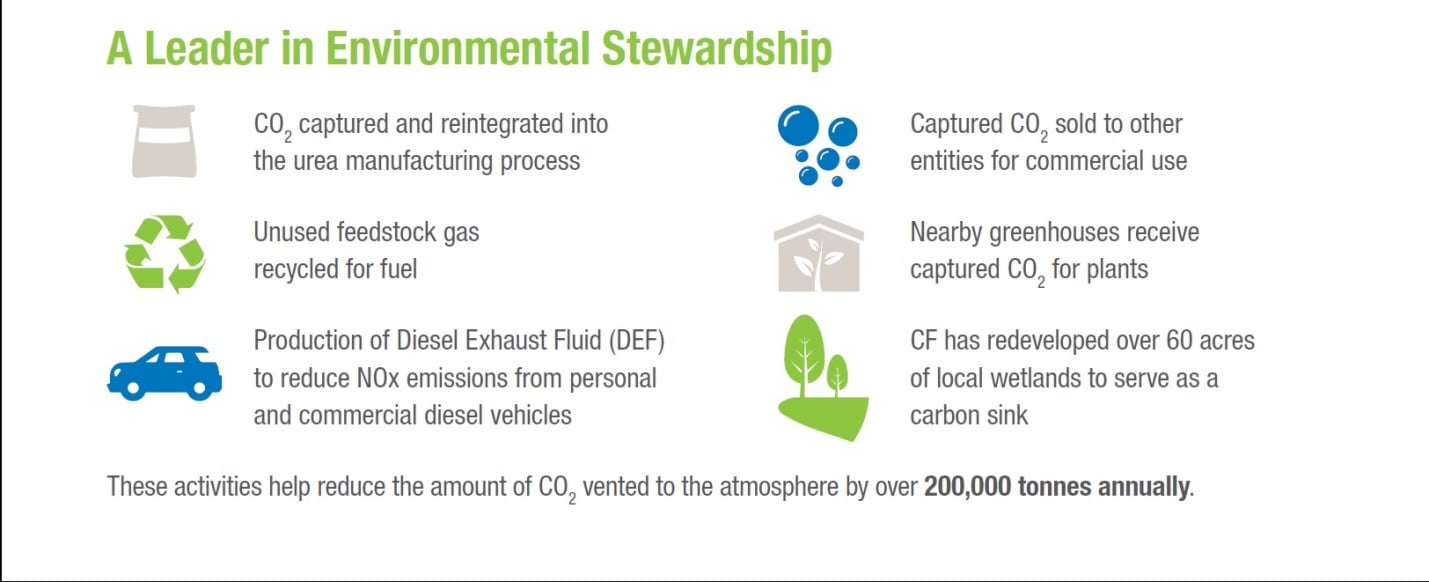 Over its fifty years, the facility has become a pillar of the community, employing hundreds at a time and contributing to various charities and community events, including donating over $150,000 in 2015 to charities and not-for-profit causes. From corporate sponsorships to donating food to working to clean Ontario's wildlife habitats, giving back to the community is a major part of who we are.
Courtright's long history can be credited to its dedication to employees and the community, and it is this dedication and continued investment in people that make it a vibrant, professional and team-oriented place to work. "CF has a long-standing history in the community as a site with a great safety record and a strong and positive culture," says Amanda Pascavage, general manager of the Courtright complex. "Our employees can be relied upon to put safety first and always Do It Right. That legacy as safety leaders will help carry us into the future."