CF Spotlight: Market Research Specialist by Day, Farmer Always

From showing and selling pigs at the local county fair as an eight-year-old and 4H member, to helping out family and friends on the farm while she was growing up, Katelyn Quinn — Kate for short — always knew the agricultural industry was where she wanted to be.
"Growing up, I always wanted to work on a farm," she said.
While getting her degree in Agricultural Business from the University of Wisconsin, Platteville, Kate worked on a local dairy farm to help cover expenses. After graduation, she began working at another dairy farm — this one run by her boyfriend, Grant, and his family. There, Kate assists with daily farm operations, including milking 60 cows, bottle-feeding calves twice per day and doing fieldwork on the 1,500 acres of corn, soybeans, wheat and alfalfa. Her favorite part?
"Playing with all the animals and equipment, to be honest," she said. "My favorite cow is Bucky. She's friendly, follows me around like a dog, and when she looks at you, her under-bite makes it look like she has buck teeth."
Although the Grayslake, Illinois native loves being outdoors, getting her hands dirty and spending time with the livestock, she was looking to bring more ag into her life. So in 2015, she began working for CF Industries as an Account Specialist.
"I heard about CF Industries through a friend who worked in the fertilizer industry," she said. "Coming from an ag background, it was a good fit."
She worked with clients in Eastern Canada as well as the American East Coast before transitioning to her current role as Market Research Specialist in February of 2017. Currently, she helps the marketing team with research and analysis to help forecast fertilizer market pricing and to see what market factors may affect the fertilizer industry as a whole.
According to Kate, working at CF helps her to gain new perspectives — ones that help her grow in her role at CF, as well as ones that help her with her work on the farm.
"When I was in the Account Specialist role, one of my customers was a co-op we work with on the farm. So, I was able to see the product go from being an order number in the system, to actually being used on the farm."
Kate believes working on the farm gives her a well-rounded view of her work at CF, as she has a better idea of how their products are used and when they are needed. Likewise, her role at CF helps give her a better understanding of the fertilizer products she uses on the farm, from how they're produced to how the product gets to her.
In fact, one of Kate's favorite parts about working at CF — aside from her coworkers and customers — is the education and experience she gains in the ag and fertilizer industry. She says that her colleagues from all departments and levels of seniority are willing to talk and share knowledge, and one concrete way they do so is through the sales team's Aspiring Leaders in Nitrogen mentorship program.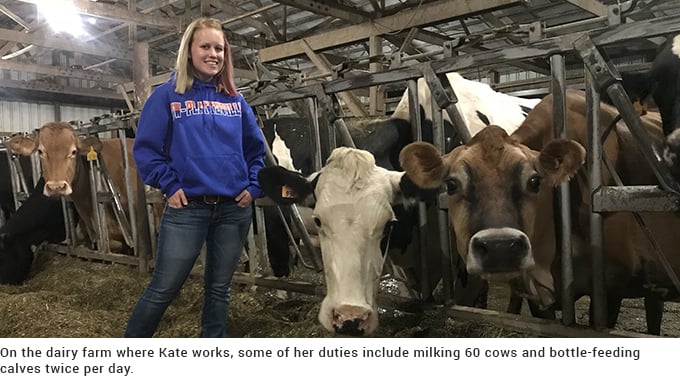 Kate is paired with Bert Frost, the SVP of Sales, Supply Chain and Market Development, in the program. She says, "ALiN is great because I can learn business skills and pick his brain about different aspects of the company, career experiences and future goals, and have one-on-one conversations about work and life in general."
Outside of her career goals at CF and on the dairy farm, Kate has a surprising aspiration —
"I would love to invent a brand-new ice cream flavor."
In her free time, Kate enjoys playing with her four cats (Marco, Pork Chop, MJ and OJ) and two dogs (Howard and Bert) and eating cookie dough ice cream.