This agronomist took his passion for agricultural technologies across the world

When Yebin Zhao moved to the U.S., he was concerned about how his knowledge would translate in a country with different farming practices than in China. It turns out his international perspective was exactly what customers wanted.
Yebin grew up on a 2-acre farm in Yantai, China. His family planted soybeans, corn, wheat and peanuts. Caring for the crops nurtured Yebin's passion for agriculture. After completing his undergraduate degree, Yebin attended South China Agricultural University and earned his master's degree in plant science. His interest in new technologies led him to the University of Georgia and a doctorate degree in agronomy.
After graduation, he decided to stay in the U.S., and moved to the Midwest for a career with CF Industries starting in March 2013. Though he was hired as an agronomist, Yebin was interested in learning the customer-facing side of the business. In 2016, he became an account manager in addition to his agronomy role. Yebin's account manager responsibilities include selling into Wisconsin and Eastern Minnesota. He's found that his background in agronomy has helped a great deal with customers, since he understands both sides of the story. "It's very rewarding," Yebin reflects.
Still, Yebin remembers being a little worried about the transition — at least initially. Farming practices in the United States are very different from those in China. Yebin explained that China is smaller in terms of arable land, and its farming population comprises 425 million people compared to 2 million farmers in the U.S. Yet despite the notable differences between these two countries, Yebin quickly found that a shared passion for farming can foster strong relationships anywhere.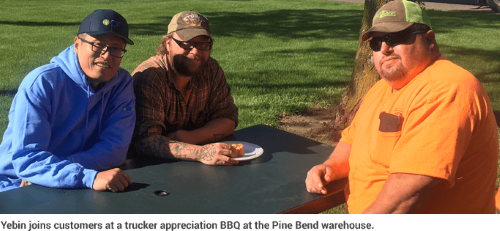 "One customer now calls me 'Yebin buddy', and that tells me he's comfortable with me and values what I can offer as his account manager," says Yebin.
In fact, both customers and coworkers alike value Yebin's background in international agriculture and nitrogen dynamics. He enjoys supporting the team with his inside knowledge of agronomy and the nitrogen industry within China, and his colleagues frequently seek his perspective when making business decisions.
In addition to his strong relationships with customers, Yebin appreciates the workplace culture at CF Industries. He finds the management team is very responsive to the needs of employees, especially when it comes to professional development. During Yebin's career at CF Industries, one piece of advice that really stood out for him came from David Hopkins, Managing Director of CF Fertilisers UK. He told Yebin, "Always get ready for changes, and quickly adapt." For an agronomist who must always adapt to new changes in farming, and a person who enjoys seeking new challenges, it was the perfect piece of advice.
Outside of work, Yebin keeps his passion for agricultural technologies alive by participating in the 4R Nutrient Stewardship Committee, the International Plant Nutrient Institute organization and other programs that promote healthy soil and crops. In his spare time, he plays tennis and golf with his family and nurtures his children's passion for music. He's also a basketball fan, and he catches Oklahoma City Thunder games to cheer on Russell Westbrook as often as he can.