CF Industries and The J. R. Simplot Company Announce West Coast Anhydrous Ammonia Agreement
CF Industries Holdings, Inc. (NYSE: CF) and the J. R. Simplot Company ("Simplot") have entered into an agreement that allows CF to ship, store and distribute anhydrous ammonia from Simplot's Rivergate Terminal in Portland, Oregon, starting in 2019.
The arrangement will enable CF to meet growing demand for anhydrous ammonia in Pacific Rim countries, a region that imported over 4.1 million metric tonnes of the product in 2017. CF intends to supply the ammonia from its Medicine Hat, Alberta nitrogen complex, which has among the lowest production costs in the company's manufacturing network. Additionally, CF anticipates selling to local customers from the terminal.
Simplot's Rivergate Terminal is the largest deep water ammonia terminal on the US West Coast, and has two 25,000 short ton ammonia storage tanks on site. The terminal is located on the Willamette River in Portland, Oregon, approximately 2.5 miles upstream from its confluence with the Columbia River.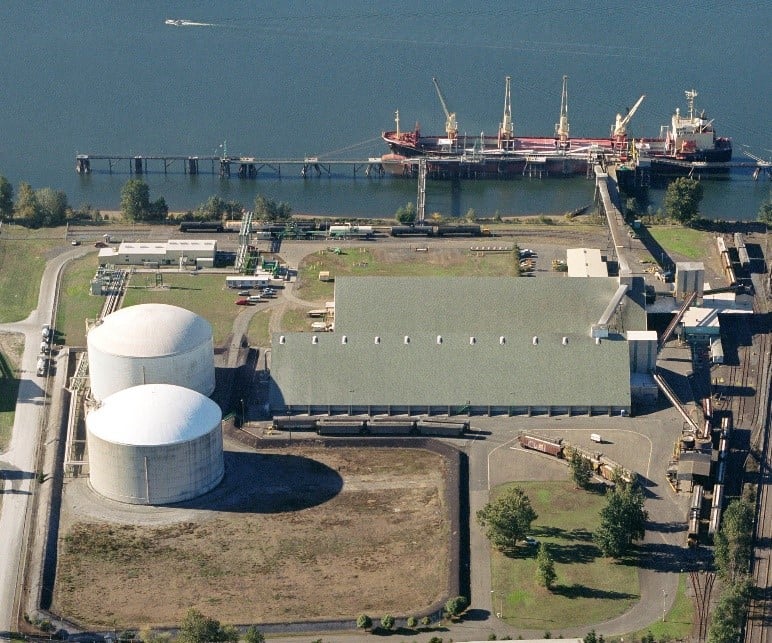 "We are delighted to partner with our customer, J. R. Simplot Company at Rivergate, to further expand CF's best-in-class ammonia distribution capabilities and leverage our Medicine Hat complex's low cost production and logistics advantages," said Bert Frost, Senior Vice President, Sales, Market Development and Supply Chain, CF Industries. "Through this state-of-the-art, multi-mode point of sale, we will increase our ability to serve customers on the Pacific Rim, a region whose consumption is growing and imports account for over 25 percent of global seaborne ammonia trade."
"We are excited about this opportunity to partner with CF Industries to leverage available capacity at our Rivergate terminal, a key asset in our supply chain," said Doug Stone, President of Simplot's AgriBusiness Group. "With the commissioning of the anhydrous ammonia plant at our Rock Springs, WY facility, the opportunity to provide available storage and warehousing of ammonia became a mutually beneficial arrangement with one of our long time partners, CF Industries."
About CF Industries Holdings, Inc.
CF Industries is a leading global fertilizer and chemical company with outstanding operational capabilities and a highly cost-advantaged production and distribution platform. Our 3,000 employees operate world-class manufacturing complexes in Canada, the United Kingdom and the United States. We serve our customers in North America through an unparalleled production, storage, transportation and distribution network. We also reach a global customer base with exports from our Donaldsonville, Louisiana, plant, the world's largest and most flexible nitrogen complex. Additionally, we move product to international destinations from our Verdigris, Oklahoma, facility; our Yazoo City, Mississippi, facility; our Billingham and Ince facilities in the United Kingdom; and from a joint venture ammonia facility in the Republic of Trinidad and Tobago in which we own a 50 percent interest. CF Industries routinely posts investor announcements and additional information on the company's website at www.cfindustries.com and encourages those interested in the company to check there frequently.
About the J.R. Simplot Company
The J. R. Simplot Company, a privately held agribusiness firm headquartered in Boise, Idaho, has an integrated portfolio that includes phosphate mining, fertilizer manufacturing, farming, ranching and cattle production, food processing, food brands, and other enterprises related to agriculture. Simplot's major operations are located in the U.S., Canada, Mexico, Australia, and China, with products marketed in more than 40 countries worldwide. The company supports 4R Nutrient Stewardship – using the right source of fertilizer at the right rate at the right time and in the right place. This is a cornerstone to Simplot's mission of Bringing Earth's Resources to Life. For more information, visit www.simplot.com.
Safe Harbor Statement
All statements in this communication by CF Industries Holdings, Inc. (together with its subsidiaries, the "Company"), other than those relating to historical facts, are forward-looking statements. Forward-looking statements can generally be identified by their use of terms such as "anticipate," "believe," "could," "estimate," "expect," "intend," "may," "plan," "predict," "project," "will" or "would" and similar terms and phrases, including references to assumptions. Forward-looking statements are not guarantees of future performance and are subject to a number of assumptions, risks and uncertainties, many of which are beyond the Company's control, which could cause actual results to differ materially from such statements. These statements may include, but are not limited to, statements about strategic plans and statements about future financial and operating results.
Important factors that could cause actual results to differ materially from those in the forward-looking statements include, among others, the cyclical nature of the Company's business and the agricultural sector; the global commodity nature of the Company's fertilizer products, the impact of global supply and demand on the Company's selling prices, and the intense global competition from other fertilizer producers; conditions in the U.S. and European agricultural industry; the volatility of natural gas prices in North America and Europe; difficulties in securing the supply and delivery of raw materials, increases in their costs or delays or interruptions in their delivery; reliance on third party providers of transportation services and equipment; the significant risks and hazards involved in producing and handling the Company's products against which the Company may not be fully insured; the Company's ability to manage its indebtedness; operating and financial restrictions imposed on the Company by the agreements governing the Company's senior secured indebtedness; risks associated with the Company's incurrence of additional indebtedness; the Company's ability to maintain compliance with covenants under the agreements governing its indebtedness; downgrades of the Company's credit ratings; risks associated with cyber security; weather conditions; risks associated with changes in tax laws and disagreements with taxing authorities; the Company's reliance on a limited number of key facilities; potential liabilities and expenditures related to environmental, health and safety laws and regulations and permitting requirements; future regulatory restrictions and requirements related to greenhouse gas emissions; risks associated with expansions of the Company's business, including unanticipated adverse consequences and the significant resources that could be required; the seasonality of the fertilizer business; the impact of changing market conditions on the Company's forward sales programs; risks involving derivatives and the effectiveness of the Company's risk measurement and hedging activities; risks associated with the operation or management of the strategic venture with CHS (the "CHS Strategic Venture"), risks and uncertainties relating to the market prices of the fertilizer products that are the subject of the supply agreement with CHS over the life of the supply agreement, and the risk that any challenges related to the CHS Strategic Venture will harm the Company's other business relationships; risks associated with the Company's Point Lisas Nitrogen Limited joint venture; acts of terrorism and regulations to combat terrorism; risks associated with international operations; and deterioration of global market and economic conditions.
More detailed information about factors that may affect the Company's performance and could cause actual results to differ materially from those in any forward-looking statements may be found in CF Industries Holdings, Inc.'s filings with the Securities and Exchange Commission, including CF Industries Holdings, Inc.'s most recent annual and quarterly reports on Form 10-K and Form 10-Q, which are available in the Investor Relations section of the Company's web site. Forward-looking statements are given only as of the date of this communication and the Company disclaims any obligation to update or revise the forward-looking statements, whether as a result of new information, future events or otherwise, except as required by law.