CF Spotlight: Kelli Harris - She Moves Product

In 2017, CF sold a company record 4.1 million tons of ammonia, with the vast majority of sales originating in North America. Those sales go for a variety of uses.
As a fertilizer, ammonia is used by farmers in tight application windows, often as short as ten days. That means they need product available on a just-in-time basis. Customers who use ammonia for industrial applications generally need the product on a consistent, ratable basis. And CF will sometimes sell ammonia to customers outside of North America, shipping large vessel volumes – 25,000 to 40,000 tons at a time.
This is the story of how CF manages to make sure the ammonia it sells is at the right place at the right time to meet its customers' needs. As you would expect, it's a team effort. But at the center of that team is one person: Kelli Harris. And she moves product with the best of them.
A Typical Day
We sat down with Kelli on an early March afternoon. We're at least a couple weather-dependent weeks away from the spring application season – temperature and moisture levels in fields are driving factors – and we thought we'd catch her on a quieter day before the busiest time of the year for her really gets going. Kelli says, "I don't think there's any way to prepare for application season," because every season is unique depending on the weather.
After a few minutes with her, however, you may wonder if she ever has a day you wouldn't call busy.
Kelli tells us that she has been working since early this morning on a problem – one of CF's distribution terminals is temporarily unable to receive the ammonia we've shipped to it. The immediate challenge is to move CF product that is in an ammonia pipeline to a different destination. "The toughest challenge today is the pipeline, even though it is the cheapest and safest way to move ammonia," she shares. So, she's texting other distribution terminals along the pipeline to see which one could receive the ammonia.
Next, she has to work with CF's truck logistics team. The pipeline wasn't the only way the terminal was going to receive product today. We were shipping it by truck as well, and now those trucks have to hold until the problem is resolved. Kelli also knows that once the terminal can accept ammonia again, she'll be back at work replacing the product she had to move elsewhere today.
CF's Mastermind
For a 40-year veteran of the nitrogen industry, the problems Kelli is dealing with today don't rise to the level of crisis. She applies the same efficient problem-solving discipline at all times, taking advantage of what she says is the best part of her job: "getting to work with all parts of the business."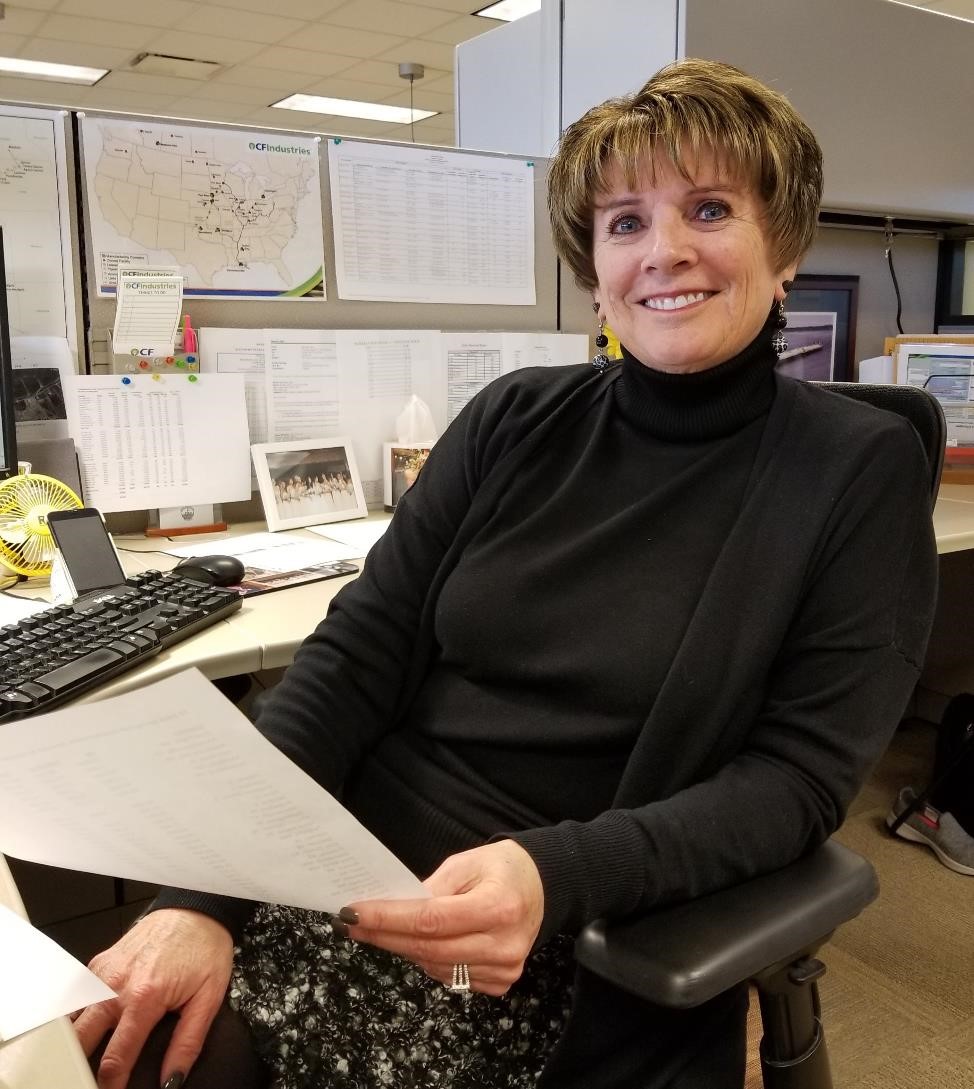 Since Kelli joined CF from Terra 8 years ago as part of the acquisition, Kelli has been masterminding ammonia logistics like this, moving ammonia around an extensive distribution system. She solves the puzzle of how and where CF is going to take the product from 15 ammonia plants in North America, coordinating with the sales and transportation teams every step of the way in order to optimize the company's manufacturing and distribution system and balancing this with customer demand.
This is no small job.
Six of those 15 ammonia plants are located at our Donaldsonville Nitrogen Complex in Louisiana and, on average, about 12,500 tons of ammonia are produced from them each day. About two-thirds of that is upgraded into products such as urea, urea ammonium nitrate and diesel exhaust fluid. Kelli has to find a home for the rest. Essentially, if the average sedan-sized car weighs two tons, Kelli is moving more than 2,000 cars each day (and more than 700,000 each year) out of Donaldsonville alone. She has to also decide the best way to move it: by pipeline, barge, truck or rail – or if it's needed to be loaded on an ocean-going vessel for export.
As CF's distribution network has grown and received additional investment, Kelli has more options than ever before for where to move product – but now the best decisions aren't always the most obvious.
For example, some terminals in CF's system were built to receive ammonia by pipeline from CF's plants in the southern U.S. But as the scale of CF's production has grown in recent years, Kelli and team have seen that the overall system benefits more if these terminals receive ammonia from Canada via truck or rail. Terminals in the Eastern Cornbelt can now receive product from our Port Neal plant in the Western Cornbelt thanks to our ability to reinject product between the two major ammonia pipelines at our Garner terminal.
A Fortunate Career Opportunity
Chance brought Kelli into these types of roles when she first joined the industry. She interviewed for a job in accounting with Terra Industries. She didn't get that role, but was able to secure a role in purchasing that led directly to what she did for Terra and what she does today for CF. It's a job she sees no end to.
But chance has nothing to do with the decisions Kelli helps make for the company, moving product efficiently and effectively. At her 40th anniversary celebration, her manager, Dan Trotter, told her that she made him a better employee. Day in and day out, she also makes CF a better company, better able to serve its customers.