Stephen R. Wilson Excellence In Safety Award
The Stephen R. Wilson Excellence in Safety Award was created to recognize and share the most impactful safety innovations and improvements made across our company every year. Submissions are thenjudged on the initiative's:
Impact on safety performance and culture
Transferability to other sites
Ability to be sustained and improved upon
Demontration of our values
The award is named for CF's former chairman and chief executive officer, Stephen R. Wilson, for his commitment to excellence in safety during his more than 20 years of service at our company.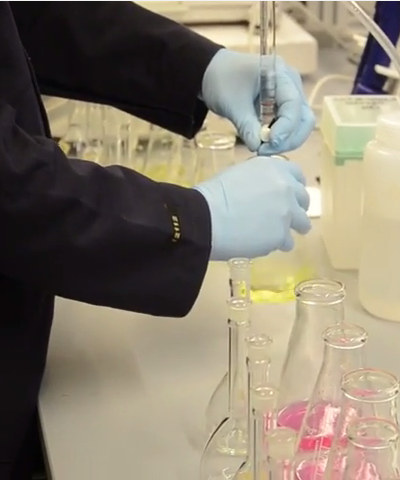 Wilson Award Criteria
In just a few years, the Stephen R. Wilson Excellence in Safety Award has had a dramatic impact within our company and we've also seen the benefits spread outside our company as we've shared winning and nominated ideas publicly.
For example, our 2016 Wilson Award winner came from the team at our Port Neal Nitrogen Complex in Iowa. They developed an idea that gives lab technicians within the company and across the industry a safer, greener and more efficient method for analyzing the quality of the anhydrous ammonia we produce for farmers. They were able to use smaller testing samples, eliminate the use of hazardous materials in the testing process (and, as a result, the need to store and dispose of them), and slashed testing time from eight hours to 20 minutes, effectively reducing or eliminating safety and health risks for lab technicians and improving our overall environmental footprint.
You can see more about this idea, which was was nominated for an Environmental Protection Agency Green Chemistry Challenge Award, as well as all our Wilson Award nominees here.
2017 Stephen R. Wilson Excellence in Safety Award Winner
The winner of the 2017 Stephen R. Wilson Excellence in Safety Award is the Courtright Nitrogen Complex in Ontario. Courtright's winning idea is the implementation of cutting edge technology that engineers out risk for infrared (IR) scans of electrical equipment while increasing the frequency at which we can test for potential issues.
IR scans of electrical equipment are a critical part of keeping our plants running safely as they identify faults early that could cause power failures or electrical fires. However, running scans required personnel to be exposed to live electrical equipment, which was a risk to multiple employees. A discussion with an inspector from Ontario's Electric Safety Authority led the Courtright team to investigate and implement IR scan windows. These allow for scans to occur without having to open electrical equipment and physically scan cables with electrical current running through them.
"The fall protection system improvement developed out of a group of us trying to think the problem through...trying to see if there was a better solution. Because we had the freedom to try something new, we were successful and are proud that the new system will potentially avert serious injury at our own facility and other CF sites."
Dave Lantis, 401 Operator Ritzville Terminal Stephen R. Wilson Excellence in Safety Award Winner