Stephen R. Wilson Excellence In Safety Award
The Stephen R. Wilson Excellence in Safety Award is an annual award that honors a facility that has best embodied CF Industries' culture of safety excellence during the proceeding calendar year by implementing innovative ideas that enhanced safety practices and strengthened their safety culture.
The award is named for CF's former chairman and chief executive officer, Stephen R. Wilson, for his commitment to excellence in safety during his more than 20 years of service at our company.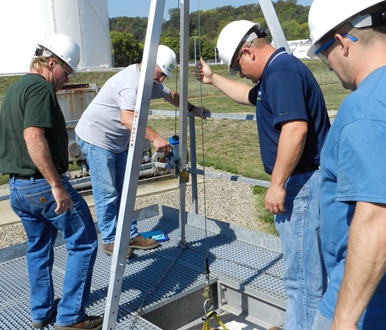 Wilson Award Criteria
Each CF location can nominate up to two safety initiatives from the prior year. Submissions are then judged on the initiative's:
Impact on safety performance and culture
Transferability to other sites
Ability to be sustained and improved upon
Demontration of our values
2015 Stephen R. Wilson Excellence in Safety Award Winner
Our Ritzville (Washington) Terminal won the inaugural Stephen R. Wilson Award for Excellence in Safety in 2015. The team identified a need to enhance their fall protection system - that already met industry standards - to mitigate the threat of potentially fatal conditions associated with being suspended above the ground while awaiting rescue.
Their solution to find and install equipment that allowed self-rescue was recognized for its impact on safety, its transferability to other locations and sustainability. This is their story.
"The fall protection system improvement developed out of a group of us trying to think the problem through...trying to see if there was a better solution. Because we had the freedom to try something new, we were successful and are proud that the new system will potentially avert serious injury at our own facility and other CF sites."
Dave Lantis, 401 Operator Ritzville Terminal Stephen R. Wilson Excellence in Safety Award Winner