Employee Spotlight: Ruth Walters, Engineering Manager
Ruth Walters is the engineering manager at our Ince manufacturing site. While she's relatively new to CF Industries, Ruth is already busy managing a multidisciplinary team of engineers that support the company's ammonia plants. In this spotlight, Ruth shares her perspective on the importance of safety and what it's like to be a leader in a male-dominated field.
What do you enjoy most about your role?
I'm new to this role, but the best bit about my job is that no two days are ever the same working at a plant like this. It is quite a diverse role; one day I can be out in the plant and the next day I can be talking about things like the net-zero hydrogen initiative in the UK. I'm not stuck behind a desk all day.
Putting safety first is part of our core values. What can you tell us about the role of safety in the work you do? How do you and your team prioritize safety?
One of the things I want to do in this position is keep a real focus on process safety and drive performance forward. I think my background in process safety as a consultant and as a front line engineer is one of the reasons they wanted me on this team.
On the occupational side, it is all about demonstrating as a leader that you can "walk the talk." Being on the leadership team, this is something I can directly influence to start changing behaviors and keep incidents down. There is a real desire at CF to improve occupational safety. I can see there is a massive drive toward improving safety, and it is great to be part of the improvement.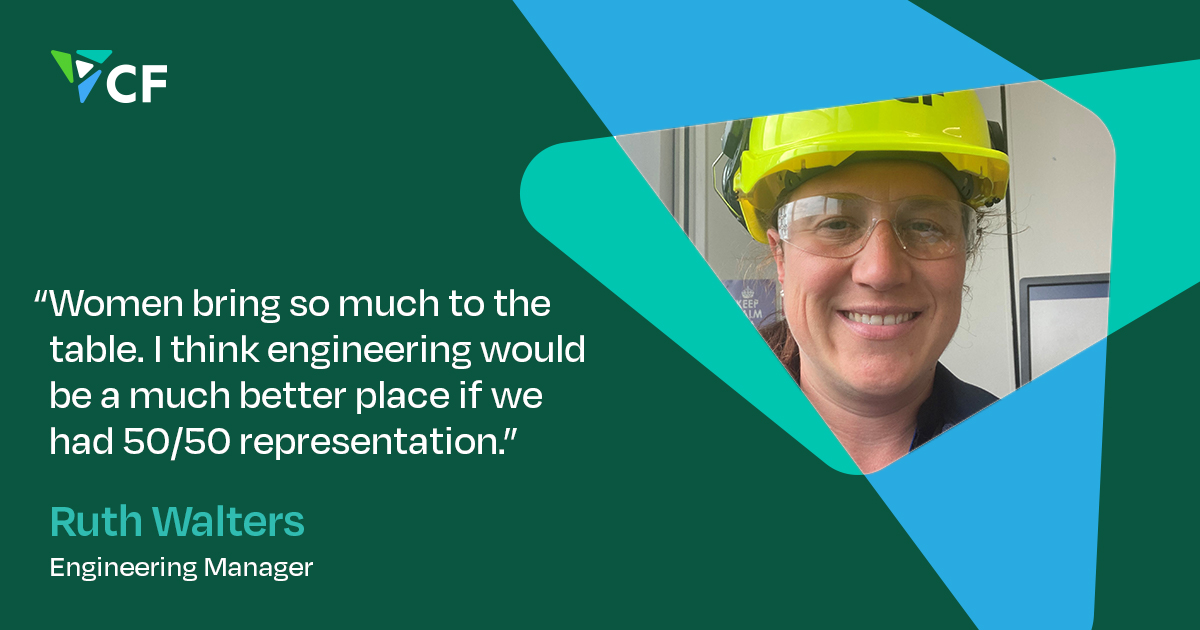 In honor of National Safety Month, we've been having internal discussions about how it's not just about physically safety, but emotional safety as well. This means creating an inclusive environment where people can freely discuss concerns, issues or improvements. What are some ways you help your team feel emotionally safe at work?
To be a good manager, you've got to be very honest and open so the people who work for you trust you. One of my key assets is that I'm very honest and open; I'm very approachable. I make sure if there are issues that need to be dealt with, I do so in a fair and in a "no blame" manner. It is important for me to make sure everyone can come to me when they have a problem so we can deal with it in an open and honest way. It is really about empowering people to make the right decisions.
June 23 is International Women in Engineering Day, which is an international awareness campaign celebrating the work and achievements of women engineers. In that spirit, tell us about a professional accomplishment you're most proud of.
One of my finest achievements is getting this role. I've got two small children and have worked predominantly with men for the past 20 years. It's great that I'm in this position because I can be a role model and demonstrate to young girls that they can go into engineering, and they can succeed. I'm quite proud of that, really. Sometimes it's been tough; I've had to go an extra mile that perhaps my male counterparts didn't have to. But I think anyone who knows me knows that I do gain respect because I'm as technically competent and can get the job done. I want to encourage more females into the industry to say it is possible and you can make it. Maybe I can even start to get more female engineers involved at CF.
Were there mentors who helped and inspired you as a young engineer?
I had a mentor at school who really encouraged me to go into engineering. Organizations like the Royal Academy in Engineering, The Year in Industry and Women in Science and Engineering also gave me funding and support early in my career to attend events and seminars and meet with other like-minded women. Being able to do that kind of networking really made me believe that I could be something special and that I could stand out in this field and succeed. It gave me confidence to pursue a career in oil and gas and now in fertilizer, which are both male-dominated environments. Along the way I've also had some really good friends and colleagues — male and female — who have encouraged me.
It is a shame that there are not more women going into this industry. It is such a rewarding career and really has been for me. Women bring so much to the table, and I think engineering would be a much better place if we had 50/50 representation.
What advice would you give young women pursuing a career in your field?
Reach out to some of these organizations and institutions because they really are there to support young women in getting into the industry. There is so much funding available to try to get more women into engineering, particularly in the UK, opening up opportunities for networking sessions and training. Also, try to find mentors within your organizations. There are times when you encounter prejudice and poor behaviors. It's important to have a support network, whatever that might be, either a sounding board or just someone listening to you.
Another thing I would say is to not be afraid. You can be at the front line of engineering, but you can also be designing car parts or running big capital projects such as a nuclear power station. The diversity of engineering is limitless. I think as we move into this green economy, we're going to need more engineers. If 50% of the population isn't represented, how are we ever going to fill the gaps for the next chapter of net-zero?