CF Fertilisers is the UK's premier fertiliser manufacturer and 'doing it right' is at the heart of all we do.
CF is the home of the iconic blue bags, the symbol of the highest quality best performing fertilisers. Our signature offering, Nitram®, has been in production for 50 years providing farmers with fhe nutrients they need to increase their yields and grow quality crops.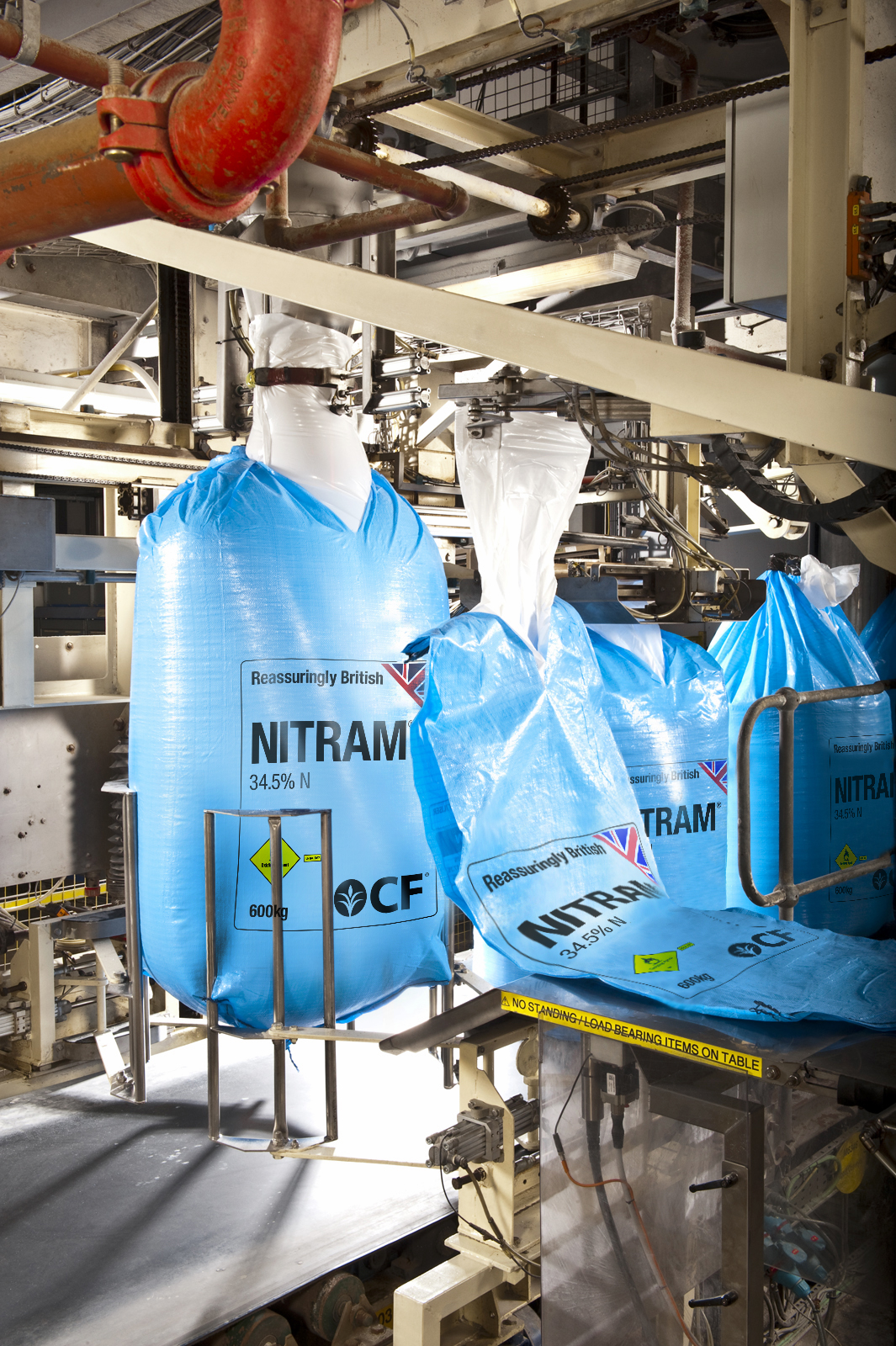 By buying blue bag you can rest assured that 'quality in, delivers quantity out'.
CF Fertilisers British produced Ammonium Nitrate (AN), Nitram®, offers farmers the perfect balance of quality and value.
Nitrogen is the single most important nutrient for growth.
Most agricultural soils contain too little naturally occurring, plant-available Nitrogen to meet your crops needs, throughout the growing period and with Nitrogen being the key to yield, careful consideration should be given to the type of Nitrogen applied.
Ammonium Nitrate is the most efficient and predictable form of Nitrogen for UK growers. Government commissioned trials that compared alternate sources of Nitrogen found that AN only lost 3% as Ammonia to the atmosphere. Urea average losses were 24% and as high as 58% in certain circumstances. Prilled for improved aerodynamics, Nitram achieves an even spread pattern due to its consistency and even spreading qualities. With Nitram product density at 1,000kg/cubic metre and urea density at 750kg/cubic metre, any spreader hopper will contain the same kgs Nitrogen whether it contains Nitram or urea
Our Nitram® product has been consistently delivering quality yields, proteins and reliable spreading widths for more than 50 years. Evolving to meet farmers exact needs throughout the decades, this well respected product can be found on many farms throughout the UK.
Chemicals, Utilities and Emissions Reduction: Best in Class
As the UK's largest manufacturer of Ammonia and Nitric acid, we are proud of the consistent and reliable source of quality chemicals that we supply to UK manufacturing.
Our Ammonia Solution is produced on our Billingham Complex and is primarily used for NOx Abatement in industries such as power generation and cement manufacture. We also the UK's largest manufacturer of Nitric Acid. Typical uses of Nitric Acid include the manufacture dyestuffs, explosives, fungicides, catalysts, polymers and man made fibres.
CF Fertilisers UK - Quality, Health, Safety and our Environment
At CF Fertilisers we are 100% committed to being a good neighbour.
We take our environmental responsibilities very seriously. Our production sites operate to ISO 14001 and work to the principles set out in the company's Environmental Policy.
CF Fertilisers UK Ltd is a signatory to Chemical Industries Association environmental principles.
Health & Safety
CF Fertilisers UK is committed to protecting the health and safety of its employees, customers and the public.
Meeting health and safety obligations is effectively the company's licence to operate - if health and safety standards cannot be met there is no business.
All production sites have the Occupational Health and Safety Standard OHSAS 18001 and have Major Accident Prevention Policies.
The company is a member of the CIA's Responsible Care Scheme
See CF Fertilisers EHS & Q Policy here. Or to request a hardcopy please email info@cffertilisers.co.uk
To receive the CF Fertilisers UK Ltd. Contractors Risk Assessment Form, please email info@cffertilisers.co.uk.
Responsible Care
CF Fertilisers is a member of the Chemical Industries Associations Responsible Care Initiative. This is a commitment to manage all of our activities so that we can provide a high level of protection for the health and safety of employees and associates, customers, and the public; and for the environment.
We are committed to:
being a responsible steward of the environment
protecting the health and safety of employees, customers and the public.
CF Fertilisers will always take seriously its commitment to product stewardship and will also work towards enhancing customer satisfaction.
CF Fertilisers aims to be a good neighbour and seeking to be actively involved in its local communities.
The Responsible Care part of this website provides information:
EHS & Quality including management performance, achievements and registrations
Product Stewardship
Activities and involvement in the local community.
CF Fertilisers UK Certifications
CF Fertilisers UK Limited has been assessed and awarded the following certifications.