Employee Spotlight: Hui Wang
Hui Wang is CF Industries' manager of analytical chemistry working out of our Yazoo City Complex in Mississippi. With eight years under his belt at CF Industries, Hui gives us a glimpse into what it's like to be a member of the Technical Service Laboratory. He also shares special insight on his culture and what it was like growing up in a mountainous village in China.
Tell us about the work you do. What do you enjoy most about your role?
My role is leading the daily operation of CF corporate Technical Service Laboratory, which provides advanced analytical support for all the CF manufacturing sites and distribution facilities in North America and the UK. We have a lot of advanced instrumentation and can do a lot of things here to support the plants. There are always exciting things happening in this job, which has given me the opportunity to help our engineers to troubleshoot or improve the plant process. There is a lot of variety in my day-to-day, which is exciting.
What brought you to CF Industries?
I moved to the United States from China and started my graduate studies at the University of Arizona. After I got my doctorate in analytical chemistry in 2011, I moved to Ohio State and worked there as a research fellow for more than a year. I specialized in spectroscopy and chromatography. When a job opportunity of project chemist came up at CF, I was excited. It would be a perfect match for my background and experience. Plus, I come from a family of farmers, so I always felt a special connection to agriculture. Fertilizer is a critical commodity for farmers, so I'm glad to be a part of the industry. So, it was a good fit and I like what we do here.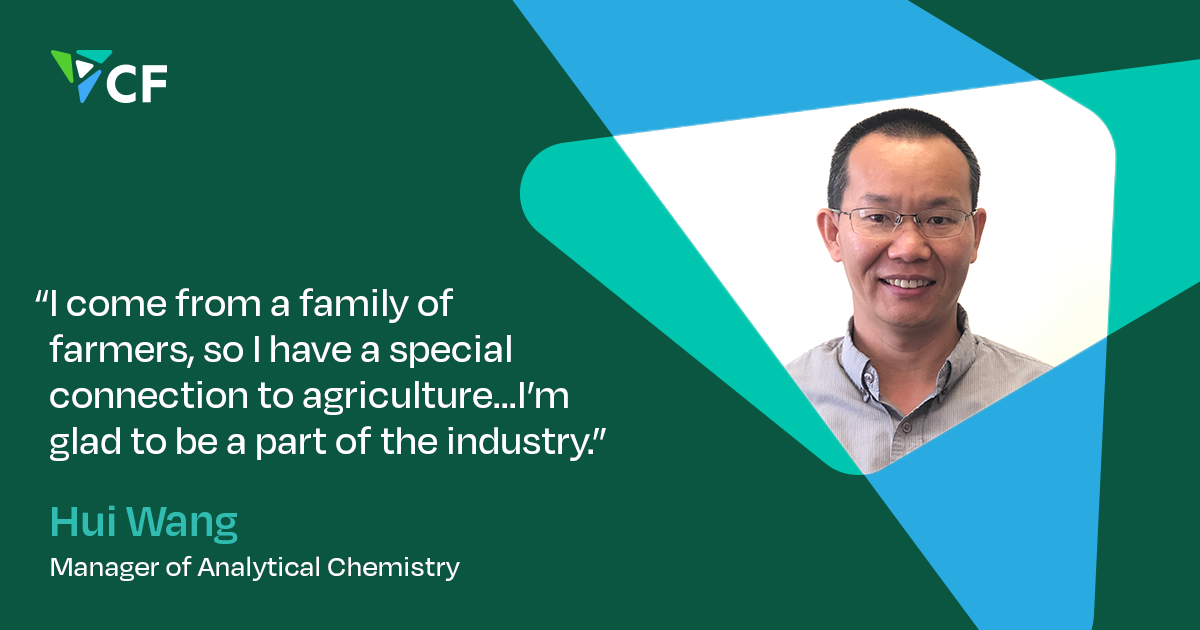 Tell us about your team and how you collaborate.
We have four people in the Technical Service Laboratory, we work well as a team and get along very well. We're not just coworkers; we're also friends. It has been a great pleasure working with such a group of people with great talent and diversity.
Collaboration is a great part of my daily work. I routinely interact with operators, engineers, sales team, and our customers. I am grateful to have the opportunity to learn from people across the company. Operators teach me about plant processes, the sales teams teach me about the market and I hear from customers about their perspective on our products. I learn a lot about our business from different perspectives, which is great.
What excites you about the new clean energy mission?
Clean energy is the future, and I am very excited about CF's commitment. Now we are not only a chemical or fertilizer company – we are also a clean energy company. As our CEO Tony Will mentioned in the company's annual report, ammonia is a key to unlocking hydrogen as a clean fuel because ammonia is stable and highly efficient for storing and transporting hydrogen. CF is an expert in ammonia production and handling, which puts us at a great advantage in the clean energy economy. So, I think we have a bright future at CF Industries.
In honor of Asian American and Pacific Islander Heritage Month, we are paying tribute to the generations of Asian American and Pacific Islanders who have enriched America's history. Can you share a bit about your background and some of your favorite parts about your culture?
I appreciate this opportunity to talk about Chinese culture. I was born in a small village in the Wudang Mountain area. I have a lot of great memories of living there. When I was young, I went on a lot of adventures; you can visit the mountains and find different scenes every day. There is a lot of wildlife, and the countryside is truly beautiful.
The area is renowned for its practice of Taoism, which is an important part of the culture. People there practice tai chi — the martial art — and meditate to seek inner peace. Taoism is a philosophy that focuses on the natural world and its regard to humans as being a part of nature, not being better than nature. That's something that's had a big influence on me and has taught me about balance. If you look at the symbol of the Yin and the Yang, it looks like two seemingly opposite force coming together to become one — just like people should come together to live in harmony. Harmony is a great part of Chinese culture.
In your opinion, how can colleagues and peers be good allies of the AAPI community?
I have been welcomed at CF and have good relationships with all my coworkers – some are like family to me. People have been kind, and even want to learn about my culture. During the Chinese New Year, people emailed me asking questions about the holiday and how I celebrate. In past years, before the pandemic, we would have some small celebrations at the site, getting together in a big conference room and ordering Chinese food to celebrate Chinese New Year together. I appreciate what the company does to help me feel comfortable and welcome.