Employee Spotlight: Allison Carr on Sustainable Water Management Practices
CF's commitment to sustainable water management practices is at the forefront of our operations. In honor of World Water Monitoring Day, Allison Carr, lab coordinator at the Medicine Hat Complex, details how her team contributes to the continued development of innovative solutions for monitoring and managing effluent.
Tell us about your role. What does an average day look like for you?
I supervise lab staff and routinely review their operational results to confirm that throughout the process we're meeting ISO (International Standards Organization) standards for ammonia in water, pH, total suspended solids, etc. Additionally, I enforce Alberta Environment and Parks parameters for our effluent water. Verifying the standards and collecting this information allows me to analyze trends so we can continually look for ways to improve.
What new or innovative ways is CF managing its effluent (wastewater)?
In Medicine Hat, we use an automated email notification system to alert key personnel when parameters of water test results exceed a certain limit. We've set those benchmarks far below permitted limits to alert our teams with plenty of time to react and get the concern under control before it becomes a permit exceedance. This program is unique to our facility, which is why we submitted it for CF's internal safety award, the Stephen R. Wilson Award for Excellence in Safety.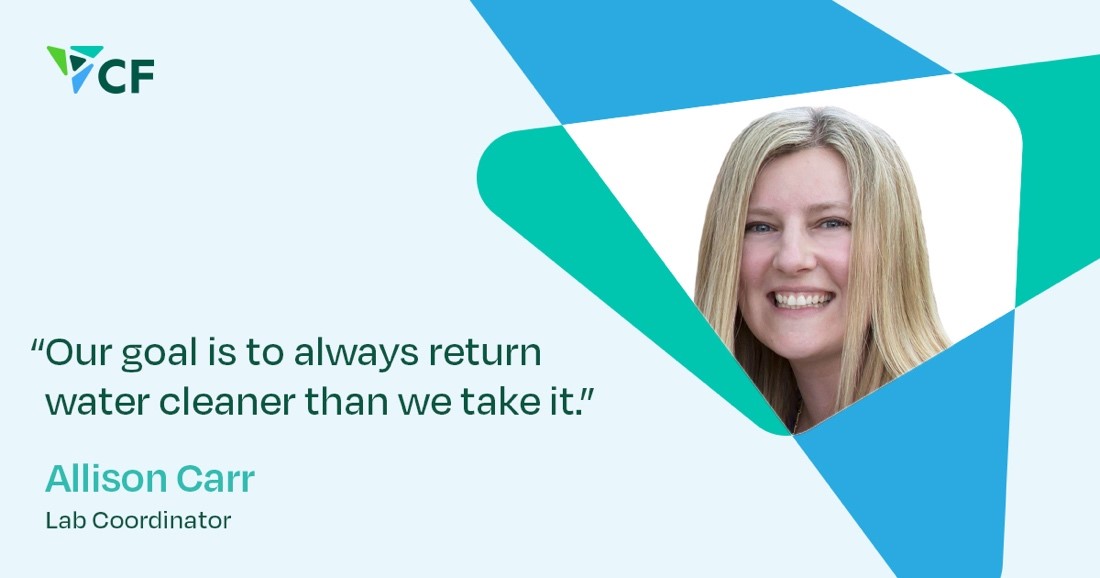 On top of this initiative, CF's organizational water management practices speak for themselves in terms of sustainability and innovation. Each gallon of water that enters a plant from rivers, wells, aquifers and other sources is reused 29 times before it is returned as effluent. We are always looking at ways to be more efficient and reuse water where we can.
In your opinion, why is it important for CF and its peers to practice responsible water resource management?
The safety of our environment and our people. The environment is a major priority for CF, so being responsible stewards of our surrounding communities is incredibly important. Our goal is to always return water cleaner than we take it. We're actively finding new ways to reuse and recycle as much as possible. As new and innovative methods and pieces of technology are released in the industry, we consider how we can implement those here in our own operations.
How do you see your work contributing to CF's clean energy mission?
My job is to make certain that Medicine Hat stays in line with CF's clean energy mission by being responsible for our environment, finding opportunities to adopt new technology and improving our operations.
What have you enjoyed most about your time so far at CF?
I've worked in wastewater analysis for 16 years, but what sets CF apart from other companies is the people. Across all sites, there are great people who want to do things right and improve.