Employee Spotlight: Kerry Engoron on Contributing to CF Industries' Sustainability Mission
CF's commitment to sustainability is at the forefront of everything we do. In October 2020, we announced exciting environmental, social, governance (ESG) goals, including those related to reducing our greenhouse gas emissions. Kerry Engoron recently took on a new role as sustainability and EHS analyst for the entire company and shared how she sees this new position as a crucial part of our sustainability mission.
Tell us about your role and responsibilities.
I am primarily responsible for ESG data collection and analysis, principally as it pertains to environmental sustainability. It's an exciting role to be in. For the past several years, in addition to their daily work, my colleagues have been working on collecting and analyzing this data before there was a formalized role. I'm here to build on their hard work and continue to improve the process to further CF's sustainability goals. Having a dedicated position will allow sustainability to increasingly influence CF's decisions for the future and longevity in this industry.
This is a newly created role. What does it tell you about the direction of the company?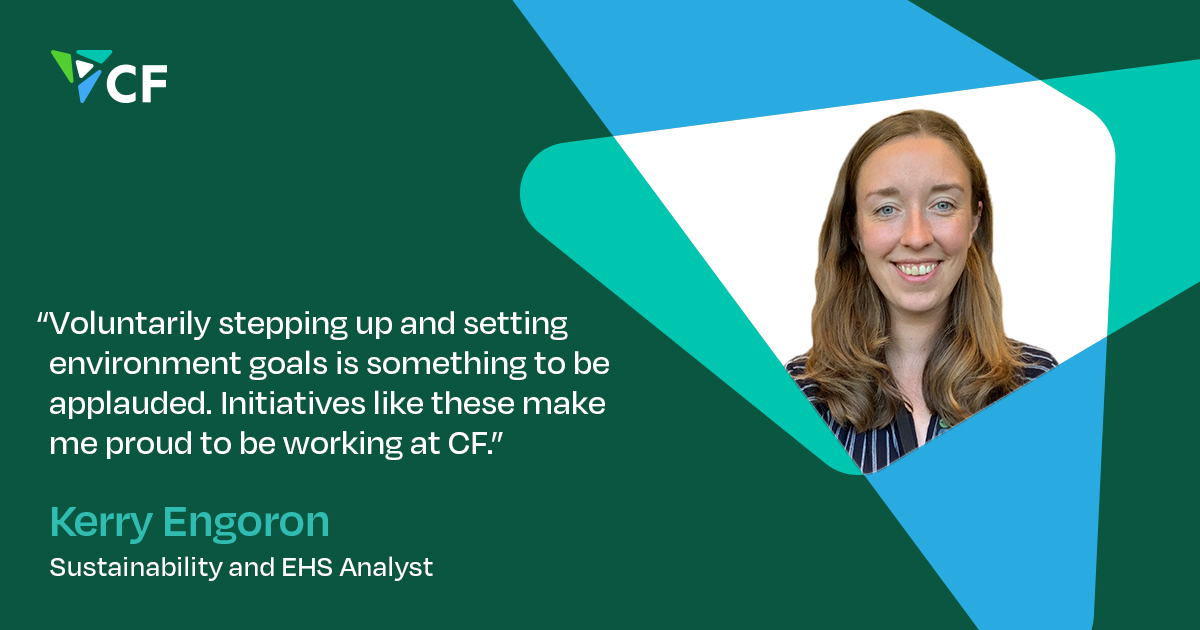 The direction CF is heading is really exciting. The fertilizer industry is a long-standing industry; CF alone has been around for over 70 years now and that comes with a lot of preconceptions. The public has an idea of what the industry is, how we manufacture, and the role of chemical manufacturing but not the role CF has the potential to play in a clean energy future. By publishing net-zero carbon goals, amongst other ESG targets, CF can be accountable for our progress. We're challenging these preconceptions to keep continuously improving to remain a leader in the industry.
What challenges are you looking forward to taking on in this role?
CF is such a large company with manufacturing and distribution facilities across the U.S., Canada, and the U.K. This means there is a lot of data and different processes to consolidate, parse, and turnout valuable information from. I'm excited for the challenge of creating a consistent approach for CF across all of our sites. My access to this data and a bird's eye view on what's working and what isn't will help provide insights into how we can improve as a company.
What does CF's sustainability program mean to you personally?
Passion for sustainability and climate change have always been a part of my life. I've sought out opportunities to learn more about my personal impact on the environment and volunteer as I can. While personal accountability is still important, it's a great opportunity to be working with CF on such a large scale. Reducing CF's impact on the environment is a big undertaking that we voluntarily stepped into by setting these goals which is worth being applauded and recognized. Initiatives like these make me proud to be working at CF.
How do you collaborate with others to ensure CF exceeds its sustainability and EHS goals?
Many individuals across the company also have ideas on how we can become more sustainable; I'm hoping this role can be an outlet for those ideas and that I can play a part in helping the sites advance toward our company goals. Engaging and learning from CF employees at the site level is a great way to generate excitement about the projects we're doing and turn out the best result for everyone.
Tell us about your career path within CF and the opportunities that have been available to you.
I graduated from Georgia Tech with an environmental engineering degree and was hired by CF into the corporate EHS internal audit team. I then continued to work at Donaldsonville in the Environmental Department, focusing on air compliance. In my six years at CF, I've had the opportunity to go to almost all our facilities and learn not just environmental compliance, but safety, process safety, and risk management too. Getting a full understanding of things outside my bubble helped me better understand the company and where our priorities lie, which has been crucial for my career development. I also have had incredible female mentors in both of my past roles, which is really important as a young engineer.