Employee Spotlight: Randall St. Pierre
We wouldn't be where we are as a company without the diverse talents and perspectives of our employees. This month, we are honoring the military veteran and active duty servicemembers who strengthen our workforce. In this employee spotlight, Randall St. Pierre, Production Superintendent, Urea 4/UAN 2 at the Donaldsonville Complex, shares how his experience in the U.S. Marine Corps has influenced his work today and across his twenty-nine-and-a-half-year long career at CF.
Tell us about your job and your experience at CF Industries.
In my work today, I feel very fortunate to manage thirty employees, all of whom are very good people. A lot of them are young, very energetic employees who are eager to learn and do a great job. As a superintendent it's also my responsibility to make sure they get home safely. In production, we want to make sure the plant is operated in a safe manner and according to product specifications. On top of that, I ensure we're operating sustainably and environmentally friendly by remaining good stewards to our neighbors and to ourselves. Looking back at my time at CF Industries, I feel as though this job was heaven-sent. Every day I come to work and feel like I hit the lottery. This company has given me far more than I could ever give back.
We're thankful for your military service. Can you share a little bit about your time served?
I was in the Marine Corps from 1983-1987. I was stationed three years at Camp LeJeune in North Carolina and one year in Okinawa, Japan. During my time in the military I served as a mechanic and a recovery vehicle operator.
What lessons or experiences from your time of service have influenced your work?
There's a lot, but two things come to mind. First, the human body and mind are capable of more than you can conceive. You can do more than you give yourself credit for or what you believe you can do. My service really encouraged me to push myself mentally to understand 'I can really do this.' At CF, I apply this through the potential I see in young employees. I understand that they can handle things better than they may think. If you give them a task and fully trust them with it, they will succeed. I'm also not afraid to let them fail, because you learn as much from failure as you do from success.
Secondly, my time of service really opened my mind to working with and getting along with people different than myself. We worked together, lived in the barracks together and ate together, so we had to learn how to understand and respect one another. Veterans are quick to appreciate that people come from different backgrounds and respect that people act and feel the way they do because of how they were raised. I don't care who you are or where you are in life, you have value to somebody or something. I think it's our duty to find the value in each other.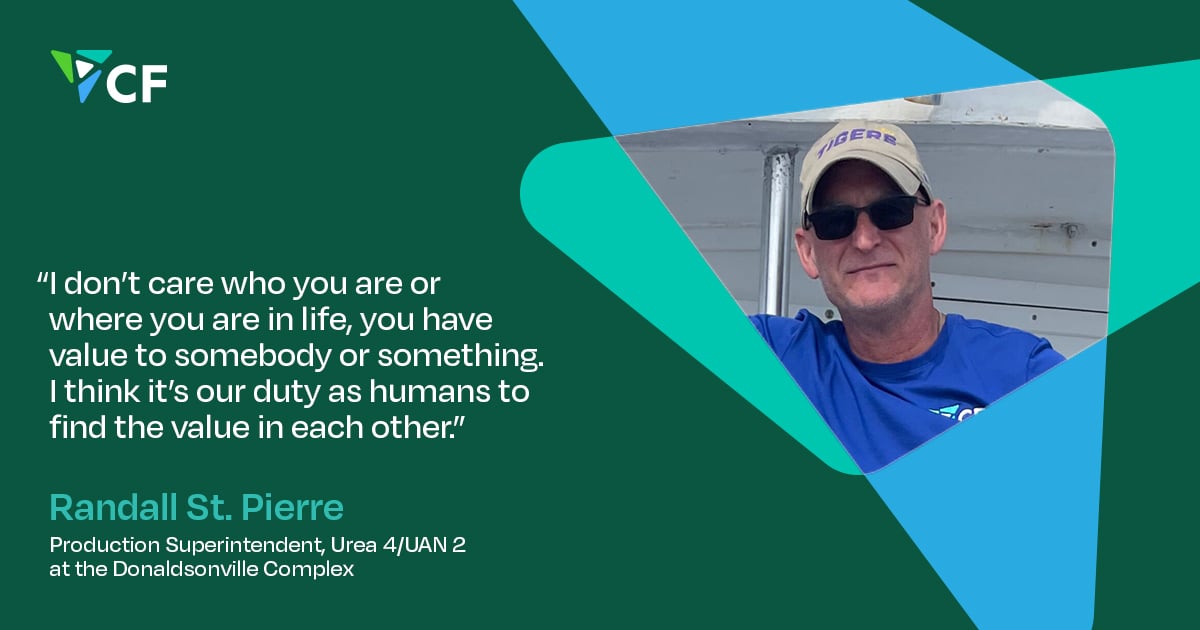 What unique qualities or perspectives do veterans bring to the workplace?
I believe we bring a very open mind because of our exposure to such diverse people. On top of that, we have a great attention to detail by being very goal and task oriented. We also don't seek praise in our work. I think all of us have some form of a protective gene which makes us very empathetic and driven in all that we do.
How has CF Industries, or the Donaldsonville team, created a welcoming environment for veterans?
I've always felt that CF has been very open, accommodating, and appreciative of veterans in my twenty-nine years here. I am not one of the individuals who served in the military while at CF, but I do know that for those who did, CF is very accommodating to their time needed to serve their duty. In recent years, our plant manager Morris Johnson has held an annual recognition meal for our veterans. We all get together, eat a meal and talk about our time in the military. CF really appreciates what veterans bring to the table.
What excites you most about the future of CF?
The leadership from Tony Will and Morris Johnson. They have a long-term vision for the future of CF. They're not focused on being in business for the next five years, they're strategizing how CF can grow and have a greater impact in the world over the next thirty to forty years. On top of that, their vision isn't just to keep CF in business long-term but to also take care of their people and support them along the way. Another thing that excites me is the potential of the employees hired at CF. It makes me feel good when at I am able to bring them in and offer a great place to work, an opportunity in life to better themselves and their families and the chance to excel through promotion at CF.
What motivates employees and makes them want to stay at CF?
The culture. It's a culture where 'Your success is my success.' It doesn't matter where I am or what I'm doing, if I pick up the phone to ask for help, people are willing to help you work through your issues or problems. It's been like that since I walked in the door over twenty-nine years ago. You better be standing on two feet because once you call, they're coming and they're coming fast! The calvary is coming!